The Truth About Why Getting A Tooth Pulled Can Improve General Oral Health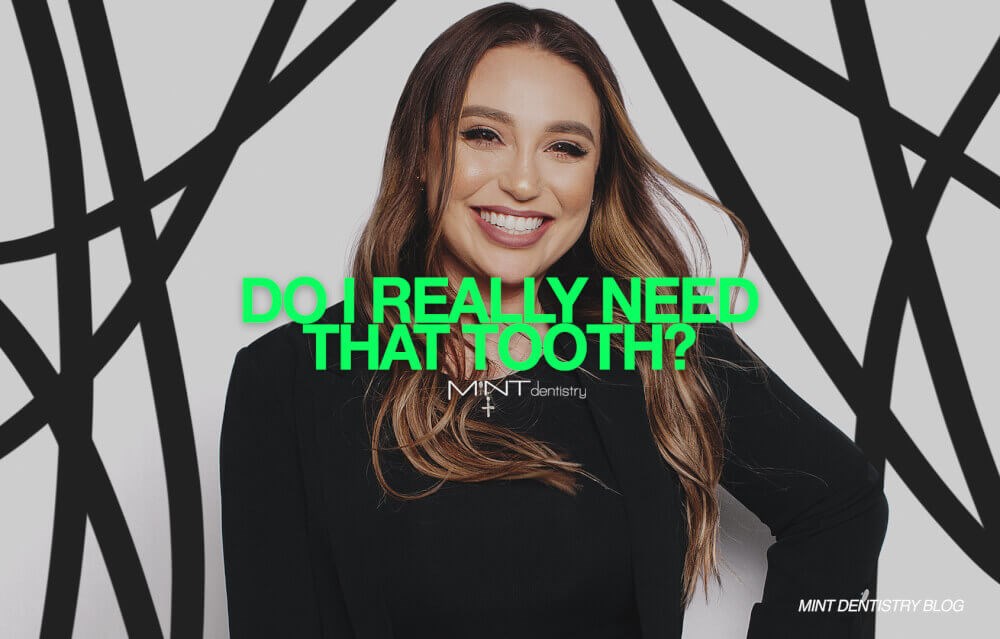 OFTEN, TOOTH EXTRACTION IS STEP ONE OF FLAUNTING YOUR MOST BEAUTIFUL SMILE
Long ago, when you were a child, losing a tooth signaled a little money from the tooth fairy. Unfortunately, when you had all your adult teeth, it became a lot less fun. There are many reasons that you might need a dental extraction to maintain your oral health, such as tooth impaction, to prevent overcrowding, or an injured tooth. Even though a dental extraction may not seem like fun, it's no longer as intimidating or painful as it used to be. Using current methods and several sedation choices, MINT dentistry in South Houston makes tooth extractions a bit easier in the event that you need one. Our team in Houston, TX will thoroughly evaluate the area before saying you need an extraction. If a tooth has to be extracted, our staff works hard to ensure you are comfortable from start to finish. Keep reading to explore both techniques of tooth extractions and the leading reasons why a tooth or teeth may have to be removed.
TYPES OF DENTAL EXTRACTIONS
There are many reasons why a tooth may need to be extracted. First, the team at MINT dentistry in South Houston will figure out the reason for your dental symptoms. Then, they will be able to decide which kind of tooth removal best matches your needs. The majority of tooth extractions fit into two main categories:
SURGICAL EXTRACTION
A surgical extraction will be done when the tooth hasn't fully grown out of the gums. This means that an incision is necessary to access the tooth below the tissue. If needed, the tooth may be divided into several pieces for an easier removal. A surgical extraction is usually utilized to take out the back molars or an impacted tooth.
SIMPLE EXTRACTION
Your dental care provider will conduct a simple extraction if your crown of the tooth is visible over the gumline. It is often loosened using a dental tool called an elevator, and then the tooth and root are taken out of the jawbone and gums. This method is typically chosen when a tooth is seriously infected, very decayed, or damaged beyond repair, or to make room for overcrowded teeth.
STANDARD REASONS YOU MIGHT BE REQUIRED TO GET A TOOTH EXTRACTED
Many different oral problems can lead to needing a tooth extraction. One of the most common reasons adults in Houston, TX will require a dental extraction is to prevent tooth eruption failure. These are many of the other routine reasons you might need a dental extraction:
DAMAGE TO THE TEETH
Regrettably, injuries can happen to anyone, and, occasionally, our teeth could be damaged. Although the preferred solution is usually to try to save the tooth, it might not be possible. The damage may be a result of a car collision or perhaps an athletic or workplace accident, but whatever the reason, patients in Houston, TX really should schedule a consultation with a dental professional if they have a tooth injury. In some cases, the harm might not be visible right away.
MOLARS
Your third molars, frequently referred to as the wisdom teeth, will most likely have to be removed. The human jaw typically can't fit these additional teeth, so when they start to poke out of the gum tissue (typically from ages 15 – 22), your dentist might suggest a surgical extraction. It's best to have the wisdom teeth extracted as soon as you can, so they don't get infected or impacted. However, a small number of people don't have to get their third molars extracted. Very rarely, some fortunate individuals don't develop all four wisdom teeth or even any at all!
EXTREME CAVITIES
When a dental cavity is neglected or not handled appropriately, it will likely extend into the pulp inside the tooth. While a root canal might possibly be used to preserve the tooth, it might need to be extracted if the pitting is severe enough to weaken the tooth's structure. A simple extraction may prevent the decay and infection from moving into other teeth, the gums, jaw, and, finally, your circulatory system.
TOOTH OVERCROWDING
Sometimes, one or more teeth might have to be extracted before an orthodontic treatment such as Invisalign or standard braces. An orthodontic treatment is intended to gently push the teeth into the correct alignment, which may require removing one or multiple teeth if there is not enough room so the remaining teeth can fit. Overcrowded teeth are typically addressed with simple extraction.
TOOTH IMPACTION
When you have an impacted tooth, it means there is some kind of problem preventing the tooth from breaking through the gum tissue. An impacted tooth might be impeded by a baby tooth that still hasn't come out naturally, or it might be developing in an abnormal direction and is blocked by a nearby permanent tooth. Based upon the reason for the impaction, the dentist might suggest a surgical or simple extraction to ease pain or avoid an infection.
HEALING TIME AFTER A DENTAL EXTRACTION
Following a tooth extraction, it's necessary to understand and diligently follow your dentist's recovery instructions. A simple extraction will typically have less recovery time than a surgical extraction, but it will depend on each unique case. You could be written a prescription for antibiotics to prevent infection, as well as a pain reliever. You may opt to go on a soft foods diet for the first few days after the procedure, when your gums are sore and recovering. This is a good opportunity to have a little ice cream, but you should also make smoothies, etc., for more vitamin-rich meals. You need to avoid consuming all tobacco products, both prior to and following your procedure, because they can lower your ability to heal. Your dentist might suggest using an antibiotic oral rinse until you can start flossing and brushing again.
THE PATH TO A HEALTHIER, MORE ATTRACTIVE SMILE MIGHT INCLUDE A DENTAL EXTRACTION
A dental extraction could be performed for a lot of reasons, including to stop an infection from spreading, to treat an impaction, or just to provide your remaining teeth additional space. Treating all of these problems at MINT dentistry in South Houston is key to obtaining your sexiest smile. Call our practice in Houston, TX to schedule a consultation with our knowledgeable staff to talk about if a surgical or simple extraction might be the best answer for a better, brighter smile.